Automobiles
2901 Moorpark Avenue - Suite 265 - San Jose, California - USA
Telephone (408) 244-3123 - Fax (408) 244-3124
---
---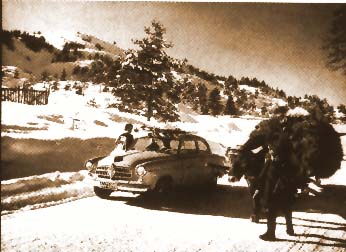 NEWS
BORGWARD WEIHNACHTSFEIER
by John Kohler Barbour
The skies were cloudy and rain appeared periodically unevenly over the countryside however the Borgwardians were not deterred and arrived at Don Hoskins' home in Layfayette on Sunday afternoon, the 7th of December, for the First Annual Weihnachtsfeier.
Don's home is a perfect warm atmosphere for a friendly party celebrating the season. Built by his father in 1922 the home is reminiscent of a country museum with pictures, rugs and collectibles of many sizes and descriptions. A cheery fire warmed us upon arrival and after some introductory potables visiting was in vogue.
Even though the rain pelted down outside we were warm and dry inside, enjoying the hors d'oeuvres provided by Curt & Kris Hoffman and Mary Ann Bourbour. Once everyone arrived we gathered in front of the TV to watch a video of the 100th Birthday Meets in Bremen, Germany, honoring Carl F.W. Borgward. So many Borgwards of various descriptions plus customized vehicles. The parade never seemed to end. The quality and quantity is very motivating for Borgward owners in the United States.
As the hors d'oeuvres wore off the smell of roast turkey began to permeate the living room as a signal that Christmas dinner was ready to serve. Bill Comley brought the big bird with several varieties of dressing all of which was supported by candied yams furnished by the Chris Mulvaneys, fresh green beans from Mary Ann Barbour, a huge mixed green salad from Paul & Debbie Borgwardt and various breads from Franz & Fabiola Rogmans. It did not take much urging for many to return for another helping of these delicious dishes. The sumptuous meal was complete with the presentation of cakes, cookies and torts contributed by Rick and Nancy Warne, Ludwig & Edith Meyer, Sheila Comely and Don Hoskins.
To avoid falling asleep after consuming the wonderful meal, we all gathered around the antique piano for singing of favorite Christmas carols accompanied on the piano by John Barbour. Some folks sang "O Tannenbaum"in German and Edith Meter told the story of the long ago composition of "Silent Night" by Franz Gruber and Joseph Mohr.
As the evening wore on several of our party realized that the return to the home hearth must begin and so dispersal commenced. What a wonderful time we had with our Borgward friends. The vote to repeat this party in 1998 at this same warm home was unanimous and upon that note we bid our farewells.
January 9, 1998
---
Dave Bole in Yakima, WA USA has a '57 sedan that drives plus a later model TS sedan, the year is unknown, that he wants to sell. His phone is (509) 965-7576. His address is 1010 South 37th Avenue. Yakima, WA 98902
---
I have new tailight lens and used tailight lens, with exchange available. Price range is $35 to $100 each (408)244-3123
---
(click on the Isabella to return to the index page)
webmaster
: Gregorio Zarco zarcoffgregory@hotmail.com
This page has been visited

times.